Switchblade Creative Studios' Marie Macaspac joins team of social network for animal lovers, Sharingpet, as Leadership and Outreach Advisor
October 17th, 2011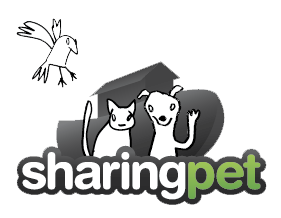 Switchblade Creative Studios founder, Marie Macaspac, has been dedicated to saving animals for the last 5 years as a volunteer, foster mom, and Marketing leader for Muttville Senior Dog Rescue and San Francisco Animal Care & Control, and has now been given a great honor to be  part of the Sharingpet team as their Leadership and Outreach Advisor. Sharingpet.com is a new social network for "pets and the people who love them". We've been excitedly preparing for the big announcement of its launch date, October 20th at the Best Friends Society's "No More Homeless Pets" Conference, an annual event where over 50 animal rescue organizations gather in Las Vegas, NV to discuss the animal rescue cause and find new ways to ban together to save more animals. Marie will be there along with Muttville founder Sherri Franklin and 3 fellow team leaders, Anne Lauck, Ellen Lazarus, and Patty Stanton.
Perfect for Sharingpet's site launch, Sharingpet has also spawned this challenge: Save 1 million more pets in one year, with the help of their social network and their tools, Virtual Adoption and the Buy & Give Shop. Virtual Adoption hopes to change how the world sees animal rescue and adoption, allowing anyone to help homeless pets. The Buy & Give Shop is Sharingpet's tool that hopes to give rescues a new substantial way of raising money for their organization. Sharingpet coined this phrase, "AdoptiON Movement" to describe what they are confident will change the world for animal rescue in the United States.
This video beautifully demonstrates the Sharingpet mission. Marie was very glad and honored to be the narrator:
The "Save 1Million More Pets" challenge, inspired by Sharingpet from Sharingpet on Vimeo.