Website Design and Development for Paw Patch Pastries & Pet Boutique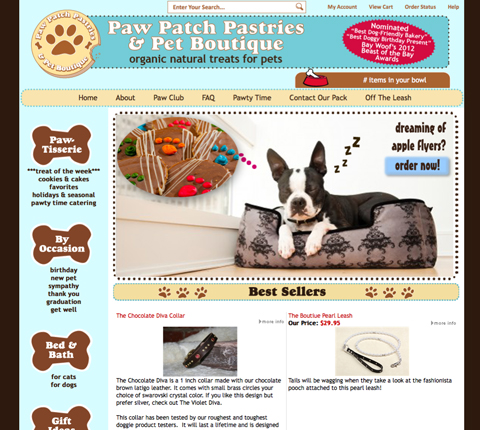 Client: Paw Patch Pastries & Pet Boutique
Challenge: Owner/Chef Carla Ocfemia was ready to get the name out there of her new pet friendly bakery + store, Paw Patch Pastries & Pet Boutique. She had events already lined up and needed online presence. We had 2 weeks to get her identity and a website up and running!
Switchblade Solution: Switchblade loves a challenge. We went above and beyond her needs. Not only did we set up Carla's website and tighten up her brand identity, we also connected her to our pet-friendly clients and colleagues to help get the name out. After just 3 months of launching, Paw Patch Pastries was nominated for Best Pet Friendly Bakery and Best Doggie Birthday Gift in Bay Woof Magazine's Beast of the Bay Awards! Pretty amazing!
Once her HTML site was up, we worked behind-the-scenes to build her a full e-commerce website, where she could manage product inventory and take orders online. We chose Volusion as her CMS , and maintained her brand identity system so existing customers still felt that they were in a familiar place when introduced to the new website.