Muttville's Holiday Adoption Center – from Empty Space to Room of Hope for the Holidays!
December 5th, 2011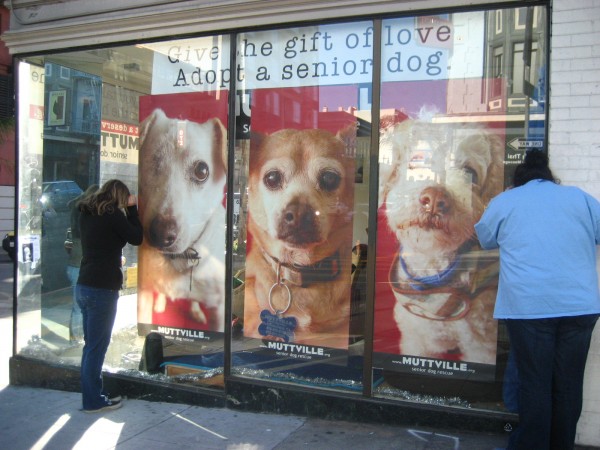 Here is how Muttville redefined a "Popup store" for dog rescue……..
The last Saturday of November, Muttville was scheduled for an outreach event at the former "Leftovers" Consignment Shop at 1259 Polk St in San Francisco. I didn't realize we would be in a completely vacant 2000 square foot space. The owner of Leftovers had the lease until January 1, and she already moved her store to a new location on Van Ness Ave. She nonchalantly said, "Sure you can use the space." My imagination went reeling of all the possibilities. I was reminded of some of the good ol' days when I worked on window displays and pop up stores for Sony. I was excited to make this empty space into a showstopping attraction for Muttville.
I immediately called Patty Stanton, Muttville's publicist, and told her my vision. We came back on Sunday and decided to launch on December 3. That would be 6 days from now. Could it be done? And with what budget?
Learning to be very resourceful in these last years as a business owner, we scoured the Muttville garage, where Sherri had amazingly fitting vintage furniture and basically everything we needed to dress up the interior. We took what we found, filled up the Muttvan and delivered it to the space Sunday night. It was really coming together in less than 24 hours!
Now that was taken care of, we had to design eye-catching window displays with as minimal a budget as possible. I designed for 3 windows facing Polk St and Bush St with existing collateral, thanks to a beautiful set of photos taken by Nuena Photography. If we wanted window displays in 6 days, I had to order big, bold banners by Monday! I worked til 3am Sunday night / Monday buy generic xanax online morning, got Sherri and Patty's blessing, and they were ordered.
I immediately emailed our pet-related clients and colleagues who all would rally for Muttville in a heartbeat: Pets Love Deals, Small Club, Paw Patch Pastries, Nuena Photography, Waghearted, Sharingpet, and Happy Hounds Massage. They filled the space with warmth and gifts, offering their services, products and hot cider!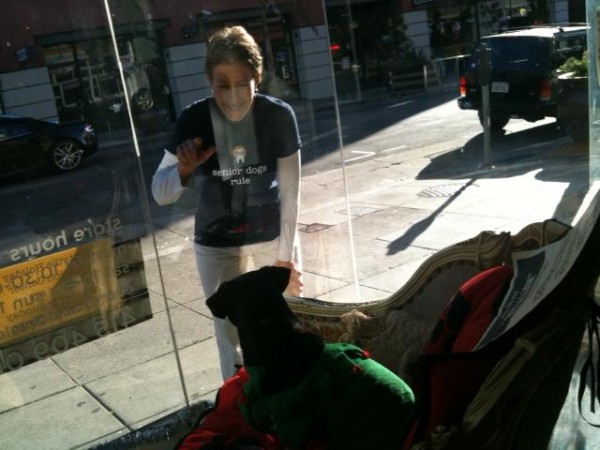 Opening Day of the Muttville Holiday Adoption Center came on December 3. Even our vendors couldn't believe what we pulled together in less than a week. Thanks to our dedicated Muttville volunteers, Patty, Anne, Ellen, and Russell, plus our friends from Sharingpet, Angel and Luis, we spent a lovely Friday night putting it all together. Even that night, we were getting traffic! The neighborhood had never seen anything like it before! We were welcomed with open arms by the neighboring businesses and passers-by who were nearby for a movie or a show at  Great American Music Hall.
Back to Opening Day…beautiful and sunny! People were waiting for the doors to open! Doggies in the window!
Traffic was high in the afternoon and we decided to stay open an extra 2 hours. A blind little Papillon named Jennie got adopted, and dozens of people discovered Muttville and the joys of senior dogs. We can't wait to see how things unfold through the month with every weekend. We're expecting news coverage, thanks to Patty, from local news and NPR's California Report.
If you live in the California Bay Area, please check it out. 1259 Polk Street, corner of Bush. Give a little love to some senior dogs!
UPDATE 12/9: Muttville's Holiday Adoption Center made it to the local Channel 7 ABC News! And they also wrote a short feature too. Read ABC local news article about Muttville here.