LinkedIn's New "Endorse Me" & Meetup's New "Good To See You" Features
October 16th, 2012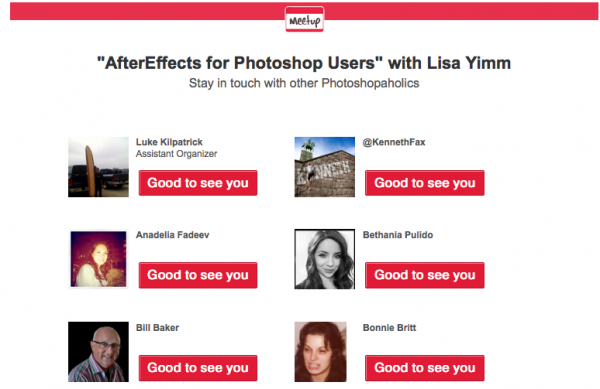 I hadn't read anything about these new features coming soon on LinkedIn or Meetup, so when I started to see the subject line "So and So has endorsed you" and "Good to See You" pop up in my email inbox by the dozens, I was pleasantly surprised and also wondering, "How did I suddenly become so popular?"
LinkedIn's Endorse Me: This seems to be a way for LinkedIn to become more "social". Unlike the Recommendations tool, where an Account user is making a request to individuals of his or her choice, LinkedIn is popping windows up on your profile with your Contacts, posing the question, "Would you endorse 'so-and-so' in.." with a specific job skill. At first, it appears like LinkedIn is just asking you a question, but in fact, you are about to communicate with someone that perhaps you haven't communicated to in months or years! What do we think of this new feature? For us, we'd like a few months to see how it works into people's everyday habits.
Meetup's "Good To See you": At first I thought it was a genuine effort by one of the members of my Photoshop Users Group! We had just concluded our monthly meeting, and it seemed like a thoughtful gesture. I was tricked! I started to get a handful at once with the same subject line!
Again, Meetup feels a need to get their usets to be more "social". Is this one working? I thought it was pretty cool. Without really making any effort, I just said thanks to 20 attendees for joining us for the last users group meeting. Impersonal with a personal touch. What do you think of this new feature? Will it last beyond 2012? Or get old before Christmas?
Let us know what you think of these 2 new features. How can it help you as an employee, business owner, group leader, or member? Any ideas for making them work better? Or should we all just stick to Facebook?